Hi I, Science writers!
The theme for the upcoming issue of our Summer 2021 magazine will be MYSTERY!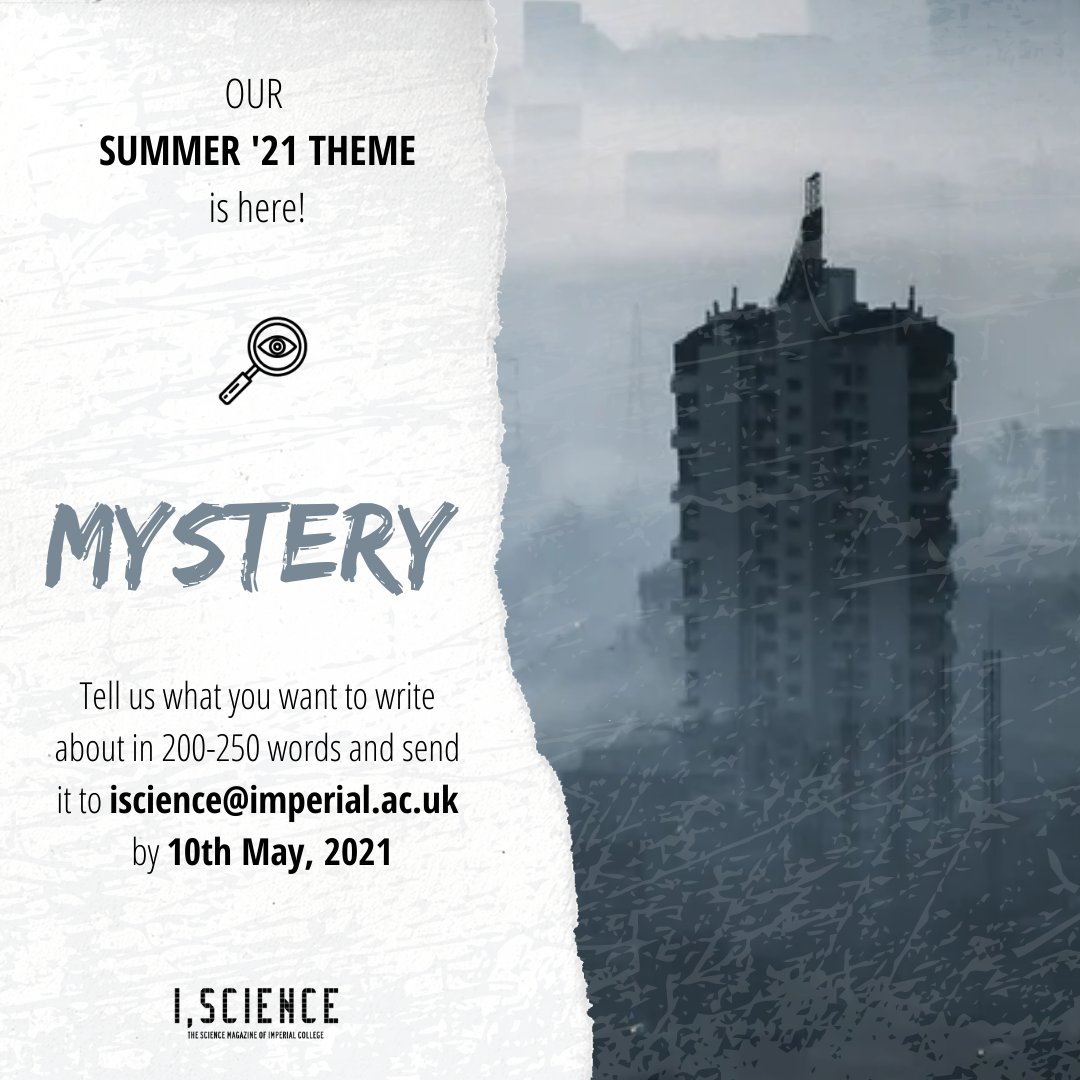 Magazine Features
Do have something to say on this topic? If so, you can pitch your own story. Please email us at i.science@imperial.ac.uk a 200-250 word outline (abstract) on your chosen topic, discussing your angle/outline for a piece.
If you have any previous writing experience, do send us any examples (this is not a requirement, but would be helpful).
The pitches are due by the 10th May, 2021. Magazine features are either 650 words or 1000 words.
Please email your pitches to i.science@imperial.ac.uk with the word "PITCH" in the title.
Online Features, News and Reviews
We always looking for book and event reviews, and news articles, as well as 600-800 word online features at any time. If you are interested in writing any of these pieces, please contact one of us with a short pitch and we'll get back to you!
For Online Features, email Kaylee Gregor: kaylee.gregor20@imperial.ac.uk
For News, email Keegan Schroeder: keegan.schroeder20@imperial.ac.uk
For reviews of events, books, podcasts, TV shows, and films, email Fatima Sheriff: fatima.sheriff20@imperial.ac.uk.
---
If you want to be on the mailing list of writers and receive the call-out three times a year for articles to be printed in the magazine as well as published online, or if you have any other questions please let us know at i.science@imperial.ac.uk
Many thanks,
I, Science team
Editors-in-Chief: Akila Raghavan and Alexia Yiannouli
Web Editor: Naomi Dinmore
Magazine Editor: Leigh West
I, Science, Felix Office, Beit Quad, Prince Consort Road, London, SW7 2BB
Email: i.science@imperial.ac.uk
Web: http://www.isciencemag.co.uk
Events: http://www.isciencemag.co.uk/events
Twitter: @Isciencemedia
Facebook: www.facebook.com/isciencemedia